According to current statistics about 90 million of the Indian population are elders and almost a quarter of them suffer poor health. The concerns of elders are many, including, loneliness, identity crisis, debilitating diseases and having to depend on others for daily needs. As we age, the body grows weak owing to weaker immune system. Some elder people prefer to move to retirement home in Chennai.These places offer support and care to the elderly. Read through helpguide.org to get clear ideas about this.
Most common ailments
Seniors suffer various ailments owing to age, diet or genetically inherited. Coronary heart disease, cancer, diabetes, abnormal blood pressure, kidney failure, Alzheimer's and Parkinson's are among the most common diseases affecting the aged population. Chronic obstructive pulmonary disorders (COPD) can lead to seasonal influenza or even result in pneumonia. Arthritis is the most common condition many of them suffer from. Osteoporosis can lead to the weakening and gradual disintegration of bones. Both arthritis and osteoporosis cause painful movements and are hindrances to normal daily activities. Poor oral health can lead to meningitis, if ignored. Obesity due to lack of movement, inherited or dietary conditions can affect overall health adversely, as it affects various organs of the body, including the heart and kidneys. Mental illnesses like dementia and depression are of major concern.
Biotechnological advances in medication
Heart diseases, diabetes, abnormal blood pressure and kidney failure have been known for ages, the incidence of cancer has been increasing over time, Alzheimer's and Parkinson's being nervous disorders, and pulmonary disorders have all been and are being researched intensively and extensively. Biotechnological research has come up with various marketed medicines like ReoPro®, Retavase®, Activase®, and Integrelin® for coronary heart diseases, Epogen®, Procrit®, Renagel®, Orthoclone OK®T3, Simulect®, and Zenapax® for chronic renal failure, Epogen®, Procrit®, Herceptin®, Leukine®, and Neupogen® for the various cancers, Prandin®, Humalog®, Humulin®, and Novolin® for diabetes mellitus and Activase® for stroke. There are several other drugs that are undergoing clinical trials. With advances in modern technologies and greater understanding of the diseases at their genetic and molecular levels gives greater leverage at identifying its cure.
Seasonal influenza can be prevented by the administration of timely vaccination. Pain due to arthritis can be alleviated by proper exercise under the guidance of a trained occupational therapist. Following a healthy diet prescribed by a dietician will ensure that the impact of disease be decreased to an appreciable level, for example, following a diet rich in anti-inflammatory and anti-oxidant property can reduce the pain of arthritis. Following a strict diet can help keep diabetes and blood pressure under check. Regular exercise like simple walks in the garden for fresh air can help relax the body and cope with COPD.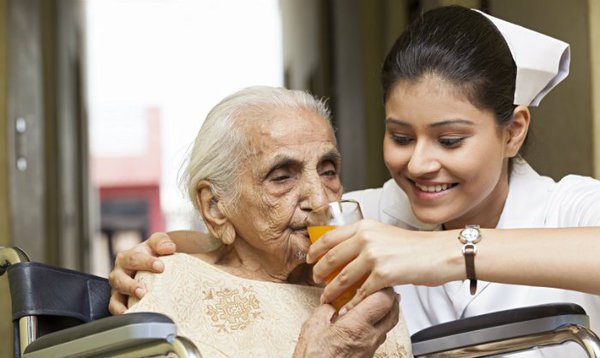 Elders suffering from these conditions require extra care and professional attention and consultation at regular time intervals. In the present day scenario, children pursuing their careers and managing their own families may not find enough time to care for their parents round the clock. Adults who go far away from home and abroad also are consistently worried about their parents' health and day to day activities. In order to attain financial stability both husband and wife opt to work and hence as in older days will not be able to offer full time care for elders. But they can offer a more comfortable environment for their parents with thoughtful investment.
Care finder helps identify the needs of senior citizens and accordingly assists in finding suitable senior care services in Chennai. Most elders would opt to live in their own homes, holding onto their self-esteem and pride. We can help them age with dignity with assisted living or community living in a retirement home. The assistance can be availed based on the needs and health of the individual. Recovering individuals can be nursed back to health with part time assistance and regular visits by specialists and therapists. Assistance with daily routine like cleaning of house and surroundings, grocery shopping, delivery of medicines, bill payments, bathing and cooking can be offered by experienced staff working in cooperation. Long term assistance also will enable the elders to live the rest of their lives peacefully. Please go through caringseniorservice.com to know more.
Elders living in big homes can preferably move to a ground floor retirement home or smaller homes with easier maintenance and offering easier mobility by avoiding steps and staircases. Community living offers a means of socializing and finding likeminded people can encourage recreational activities. Recreational activities are good for upkeep of mental health. A strong and peaceful mind will be able to stand the storms of old age with better health. Often a weak mind also leads to poor health. It is very necessary to keep elders engaged in activities to keep them healthy. Regular interactions and beautiful surroundings will offer a hale and healthy environment.
Being in a system that offers medical aid is of utmost priority during old age. It is highly recommended that the elders stay closer to medical facilities and have regular checkups. Regular visits by doctors, nurses and counsellors can be arranged for. Being in the right place and surroundings will enhance their quality of life keeping them happy and healthy with little or no worries at all. Along with medications and help with daily routine life becomes easier and constant contact and interaction with family and friends will keep them lively. After all, they do deserve to live the remaining years of their lives in happiness and peace. Providing the right environment for a healthy mind would be the greatest investment towards a healthy body.
Read Also : Working Of Bio-Diesel